Deutsch-Langhaars Breeding
Our objective at Kennel Hubertus is to breed gun dogs that perform.We feel that it is the responsibility of hunters to have competent dogs.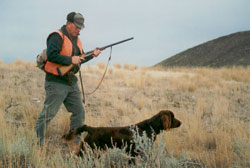 Superior performance is the result of careful seletive breeding that is concerned with field abilities and physical soundness.
Our Deutsch-Langhaars are not only selected from dogs that have passed a series of gun dog tests and have been certified free of physical defects but are certified for conformation,coat and type by qualified judges.